ORIENTEERING ACTIVITY
Blackmore offers an orienteering activity.  The activity can be downloaded FREE by clicking 
HERE
or can be obtained from the office at a nominal charge.
HOW WELL DO YOU KNOW BLACKMORE?
This is a FREE game.  There are 3 levels, each more difficult than the previous.  Can you identify where each picture was taken?  Download
HERE
.
GREEN FROG POTTERY
Green Frog Pottery is offering Guide, Brownie and Rainbow groups some great creative activities to do when you are visiting the Blackmore Camp Site. You can choose from pottery or mosaics. Our studio is in Barnards Green, Malvern, which is just a few miles from Blackmore.
Our phone number is 01684 561778
Blackmore
Gnome Challenge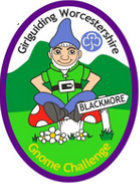 We have set up the Blackmore Gnome Challenge to help raise funds for Blackmore Camp site.
There are two challenges for your girls to take part in.
Challenge one is to collect all 23 names of the gnomes placed around the site and wood area.
The 1st letter of all the names then goes on to spell something specific to our county.

Challenge two is to find the four gnomes with a number on as well as a name, these numbers are the numbers of the Blackmore safe. Unlock the safe to find our Rainbow gnome.
Once your girls have finished either challenge there will be an opportunity to have their picture taken with our RAINBOW GNOME once you have located the Blackmore Safe
If you are not visiting our shop please ask your warden to make the
Rainbow Gnome available for you.
You are able to purchase gnome challenge badges from Blackmore shop or our County Office.
We hope you enjoy the Challenge
Info for Leaders :