Programme Resources and Badges
The County has stock of some new programme resources and badges (promise and general)
Click here for order form.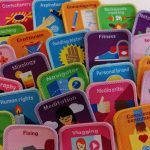 Top Awards

Bronze, silver and gold badges and certificates are in stock can only be ordered from County Office.
Click here for order form.
Cloth badges – £1;  Metal Badges – £2; Certificates – 70p
County Badges

 Cloth Badges -12p;
Metal Badges – £3.50
Orders will be completed every Thursday.
If you require a large quantity or are making a special journey please contact County Office on office@girlguidingworcs.org.uk to make an appointment and ensure that the office is open.
Leaders Bags
These useful bags are available from the County Office for only £5 each.
The bags measure 12" high, by 15" wide and are 4" deep.
They are ideal for keeping those Guiding essentials in – the latest edition of Source, Guiding, letters for parents etc.
These bags will be given free to new  Leaders completing their Adult Leader Qualification modules at least 1 to 3.
No items of uniform are held but can be ordered.