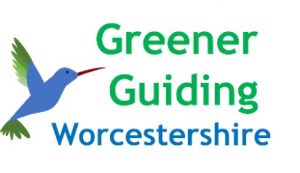 Greener Guiding Worcestershire is an initiative set up as an outcome of the WAGGGS Helen Storrow Seminar (2019). It hopes to inspire and support all members of Worcestershire County to become more engaged with the environment and climate change.
Below is a list of resources that we hope you find useful. If you would like to learn more or get involved please contact us greenerguiding@girlguidingworcs.org.uk

April Resources
A reminder that coming up this month is Earth Day on the 22nd April – a global day of environmental action. This year's theme is 'Restore Our Earth' and more information can be found here.

March Resources
Try challenging yourself this month to 'eat seasonally' – eating fresh foods that are locally produced at the same time as you're eating them. It can save money, support local suppliers, and is much better for the environment as it reduces the miles food has to travel to reach your local shop. For example, food in season now includes cauliflower, leeks, kale, parsnips and rhubarb!
Eat the seasons is a useful

resource

to support with this, which offers information about seasonal food, tips and recipe ideas

February Resources
This month we want to share this useful list of resources related to the environment and climate change.
We hope that these may be of use to you, your family or units.
It has been put together by SEEd (Sustainability and Environmental Education) and is very comprehensive; including websites, courses, videos, resources for teachers etc.
If you know of any other resources that you think are useful please share them with us!

2021 New Year's Resolutions
1. Sustainable fashion The fashion industry is responsible for 10% of annual global carbon emissions – that's more than all international flights and maritime shipping combined (World Bank)! This year try shopping more sustainability and avoid fast fashion – you could try to buy more second-hand items or take part in a clothes swap.
2. Eat more plant based food Try following initiatives such as

V

eganua

ry

or Meat-Free-Mondays as a simple way to get started – removing meat completely from your diet could reduce your carbon footprint by up to 73% (

Oxford University

)!
3. Reduce your plastic waste – Why not try a visit a local zero waste shop this year – you can find a directory of them here.
4. Save water – Showers use around 25% of water in the home – and cutting just one minute off your shower time could help save up to 2,400 litres of water and 40kg of CO2 per person each year (Scottish Water).
5. Get involved! Please get in contact if you would like to get involved with the greener guiding initiative this year! We'd love to hear from your New years resolutions