WORCESTER DIVISION
Division Commissioner contact : worcester.division@girlguidingworcs.org.uk
Worcester Division is split into 7 Districts :
Worcester Bedwardine :Littleworth, Powick, St Peters, Kempsey, Worcester
Worcester Central

: Worcester
Worcester Laugherne

: Hallow, Leigh, Lower Broadheath
Worcester North

: Claines, Fernhill Heath, Hindlip, Worcester
Worcester Perry Wood

: Nunnery Wood, St Peters, Worcester
Worcester Sherwood

: Crowne East, Dines Green, Worcester
Worcester Trotshill

: Warndon
Worcester City Run – 5th September
Thousands of runners took part in Worcester's 10k and half marathon event,
at the city run on 4th and 5th September.

Some Guides from 6th Worcester along with 2 Leaders represented Girlguiding Worcestershire who helped at the event.
All participants received a t-shirt, medal and goody bag which the Guides helped organise to be given out.
They all enjoyed the day and said that they would like to do it again next year.
Well done to all of you!
Girlguiding Hero and Thanks Award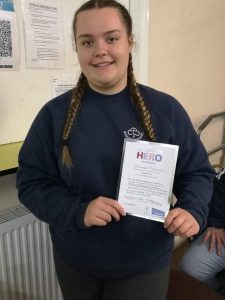 Ellesse Chamberlain has been amazing and has supported her mother in true Guiding spirit. She has looked after her younger siblings, 2 of which are autistic, cooked meals to tempt her mum to eat after chemotherapy and done so much to help. While doing this she has maintained her school work and kept the family's spirits up. She is an excellent Young Leader for 1st Crown East Guides and this award is very well deserved.
This is the first hero Award to be presented in Worcestershire