HAGLEY DIVISION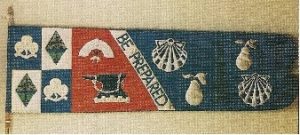 The Standard was dedicated on 24th February 1985 at St. Thomas' Church, Stourbridge.
Designed by Mrs Joan Rogers , made by local embroiderers and co-ordinated by Mrs June Waine.
Motifs include items from the Halesowen and  Stourbridge Coats of Arms, Worcestershire County Badge, Guide Trefoil, the Lyttleton family Coat of Arms and the Hagley Monument
Division Commissioner contact – hagley.division@girlguidingworcs.org.uk
Hagley Division is split into 6 Districts :
Greenfield :Amblecote, Stambermill, Stourbridge
Halesowen Leasowes : Blackheath, Howley Grange, Hurst Green, Lapal, Leasowes
Lutley & Stour Valley : Cradley, Halesowen, Hawne, Lutley
Norton : Kinver, Norton, Stourbridge
Walton : Blakedown, Clent, Hagley
Wychbury : Pedmore, Wollescote, Romsley
Children In Need
1st Pedmore Brownies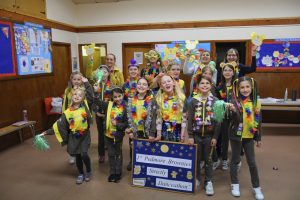 On Tuesday 16th November 1st Pedmore Brownies and Leaders took part in a sponsored Danceathon, raising money for BBC Children in Need and Girlguiding UK. They raised an amazing £437.00!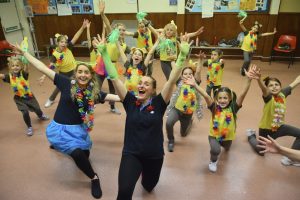 The theme was 'Strictly Style', so the girls were wearing Brownie uniform
with added glitz and glam.
The girls (and leaders!) had so much fun.

They also featured in numerous videos on Girlguiding Facebook and Instagram posts, with their videos advertising fundraising for BBC Children in Need and Girlguiding on the lead up to the BBC Children in Need Appeal Show on Friday 19th November 2021.
Their fundraising event featured in the Stourbridge and Halesowen News online, see below.
Vicki Forrest, Assistant Leader, Hagley Division, Wychbury District.
Children in Need
2nd Hagley Brownies had a 'glow stick' evening at Brownies which the girls absolutely loved.
The Leader  brought glow sticks and then sellotaped them to the girls to look like stick men.
Click on picture to see their dance!
Girls were stick men, then made flowers, necklaces, glasses and swords from the glow sticks.
It was a really fun, easy and not expensive night.
Lord Cobham Presents Gold Awards to 2nd Hagley Rainbows at Hagley Hall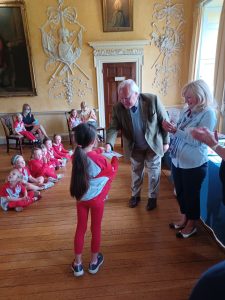 Following the launch of the new programme in Sept 2018,  Maxine Wyeth, Leader of 2nd Hagley Rainbows, was very keen to embrace this and has spent the last 2 years helping her Rainbows to complete 6 Theme Awards leading to the Gold Award.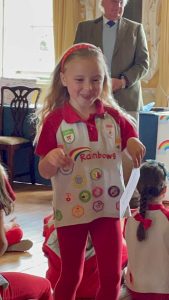 Lord Cobham who resides at Hagley Hall, was delighted to present this prestigious award to the first 10 Rainbows in Hagley to earn their Girlguiding Gold Award.

The Rainbows brought displays of their work to show Lord Cobham including scrapbooks, posters and booklets.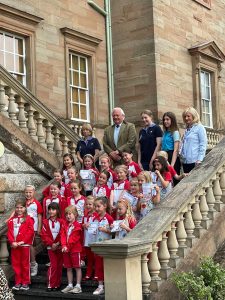 It was a super afternoon and both parents and Rainbows were thrilled to meet Lord Cobham and receive their awards.
Maxine Wyeth, Leader 2nd Hagley Rainbows