The Trefoil Guild offers you the space to be with friends, undertake challenges, and laugh together.
If you enjoy adventure, travel crafts, music, walking etc Join us!
Our activities are many and varied and always enjoyable.
We also help with Girlguiding and join in with some of their meetings and events.
The Trefoil Guild is open to anyone over 18, so whether you have moved to a new area or simply want to
meet like- minded people you will always be given a warm welcome at all of our Guilds.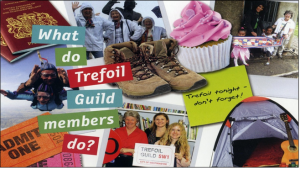 Click on the picture to find out some of the things that we do.  
Contact us to find out more and     
to find a Guild near you.
01905 797377