The shop will be open every Saturday afternoon
The Barn Holiday House/Campers  2.00pm

Mills Holiday House     3.00pm
These times can be flexible with plenty of notice, we will open to suit you, a guideline of £3 is suggested for Brownie spending money.


The Blackmore Shop will be run by Delia Taylor – contact number 077469 791 126.  
Jean Brettell
(Girlguiding Worcestershire County Commissioner 1986 – 1991) 
We were all so deeply saddened last weekend (Feb 2021) to hear the news that Jean had died, following a short illness.
Jean's involvement with Girlguiding started after one of her daughters went home from Brownies one evening most upset, because her Brown Owl was leaving, and the Brownie Unit was going to close. That was the start of over 51 years of service that Jean gave as a volunteer to Girlguiding in Worcestershire.
Our County Campsite at Blackmore was beyond doubt, a place that Jean really loved and where she spent many happy hours. Jean took on the management of the Blackmore Shop, which she ran amazingly efficiently and with great enthusiasm. She was always coming up with new ideas to promote the shop to increase sales and raise funds for Blackmore. And raise funds she did – a significant amount over the years, for which we are so incredibly grateful. So many Rainbows, Brownies, Guides and Rangers (and adults) enjoyed their visits to Mrs B's shop – often being one of the highlights of a day visit, sleepover, holiday or camp at Blackmore.
Jean will be missed by so many of us, each in our own way. Our thoughts currently, are very much with Jean's four daughters Ali, Catherine, Tori and Jo and their families.
New for 2015
This version of the Blackmore Camp Badge has a new purple border.
8.9cm x 6.3cm approx. (£1.00)
Blackmore round cloth camp blanket badge with Archery & Campfire.
7.5cm approx. (£1.00 )
Miniature County Enamelled Pin Badge.
This is a miniature replica of the official metal County Badge.
2.1cm x 1.4cm approx. (£2.00)
The Worcestershire County Badge set on a white background.
5.2cm x 7.8cm approx. (£1.20)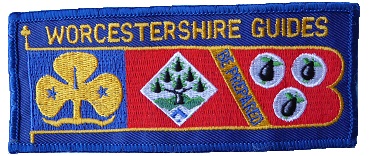 The Worcestershire County Standard cloth badge.
12.8cm x 5.2cm approx. (£1.50)
Navy Polo Shirt (£15) (S, M, L, XL, XXL)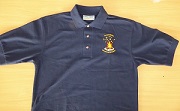 Navy Fleece (£25)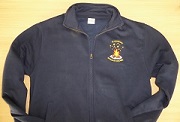 Purple Tshirt (£10)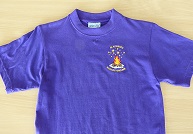 Purple Polo (£15)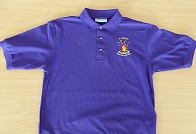 Navy Polo Shirt £15 (S, M, L, XL, XXL)

Navy Fleece (£25)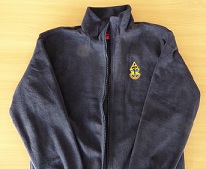 Navy Sweatshirt (£24)